⏳ Are you in a hurry? Then here's your short Canopy Reviews snapshot
Name: Canopy
Description: Canopy Parental Control is a robust and user-friendly software designed to empower parents in ensuring a safe and healthy digital environment for their children. With intuitive controls, it allows parents to manage screen time, filter age-appropriate content, track online activities, and monitor social media interactions. It's a comprehensive tool that promotes responsible digital usage, giving parents peace of mind while their children explore the online world.
Offer price: 7.99
Currency: $
Personal Summary Conclusion
After using Canopy Parental Control app for more than 3 months, I can say that it has greatly improved my child's online safety and digital well-being. The app provides comprehensive content filtering, allowing me to block inappropriate websites and apps. It also allows me to set screen time limits and enforce bedtime schedules, ensuring that my child has a healthy balance between online and offline activities.
🎛️ Complete Control: From screen time to web filters, Canopy's got you.
📱 Wide Compatibility: Only on Android and iOS. Sorry, PC and Mac folks.
⏰ Time Management: Time limits? Check!
🚫 Content Filtering: A+ on this. Uses AI to filter out explicit content.
🕵️ Usage Tracking: Get the 411 on how your kids use their gadgets.
🌙 Bedtime: Nighty-night! Canopy helps enforce bedtime.
💤 Pause the Internet: One tap, and it's quiet time.
💼 Safe Search: Google and Bing are cleaned up.
🔐 Privacy Focused: Data is encrypted and secure.
👥 Profile Customization: Personalize settings for each kid. Hooray!
📞 Customer Support: Help is just a chat or call away.
💵 Flexible Pricing: Monthly and annual plans, take your pick.
🆓 Free Trial: Yup, you can try before you buy.
🎉 Promotional Deals: Deals aplenty, especially during the holidays.
Features & Functionality

Ease of Use

Performance & Reliability

Compatibility

Privacy & Security

Customization Options

Customer Support

Value for Money
Pros
Canopy offers robust content filtering, helping parents protect their children from inappropriate material online.
Parents can set screen time limits, fostering healthy device usage habits.
 It tracks online activities, allowing parents to understand their child's digital behavior.
 Parents can control settings remotely for added convenience.
Cons
Canopy's subscription-based model may be expensive for some families.
Introduction to our Canopy Software Reviews
As a parent, you want to keep your kids safe online without invading their privacy. Monitoring software like Canopy claims to give you oversight and control over internet usage while respecting your children's independence. But how well does Canopy work, and is it right for your family?
This Canopy review of the popular parental control software provides an in-depth look at the features, functionality, pricing, and more so you can determine if Canopy meets your needs. With internet dangers lurking around every corner of the web, using a parental control solution has become almost mandatory for the modern parent.
Canopy aims to give parents robust content filtering and screen time management tools while fostering trust and open communication with kids through its non-invasive design. Read my Canopy reviews to see how well it delivers on these promises.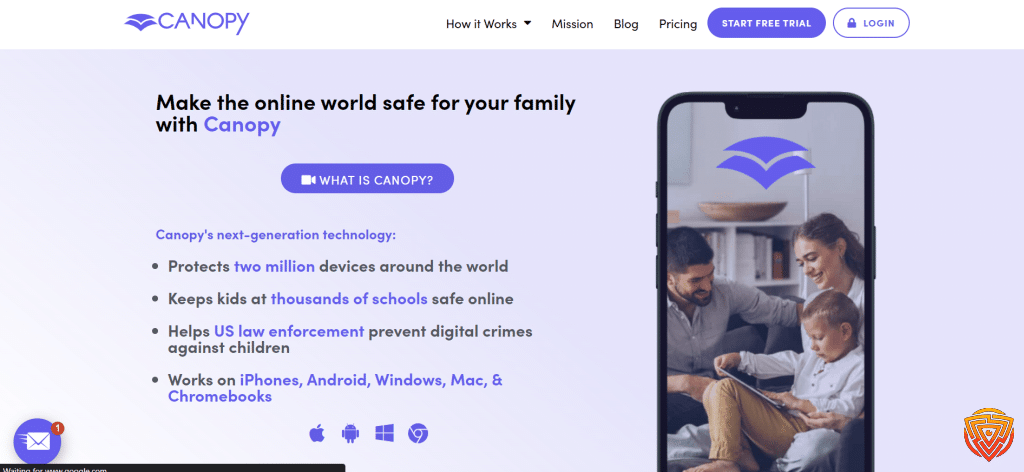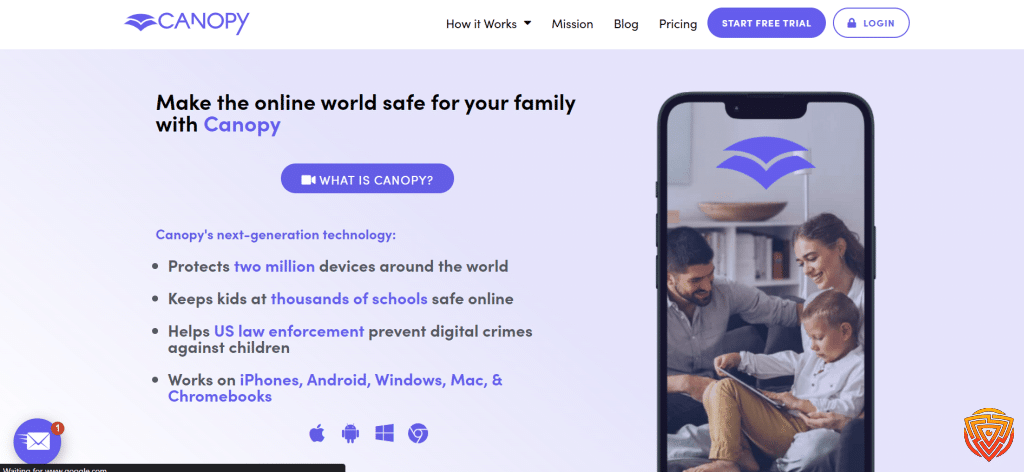 ---
Overview of Canopy Parental Control
To understand what is canopy app, it's helpful to know the company's origins and development to understand the Canopy software. Canopy was founded in 2015 by concerned parents and child advocates who saw a need for affordable and effective parental monitoring software.
Canopy started as a basic web filtering and time management tool but has since evolved into a full suite of parental controls. Its content filtering capabilities block inappropriate websites, apps, and content, ensuring a safe online environment without constant monitoring.
Canopy has established itself as a leader in parental monitoring software, serving over 2 million parents and children worldwide. By providing an affordable, user-friendly solution for digital parenting, Canopy aims to help parents raise children prepared to thrive in an increasingly connected world.
---
Features and Functionality
Next in my Canopy Review i will discuss its features and functionality. The Canopy phone app is an effective tool for digital parenting with consistent features; some of the effective features offered by this tool are:
Content Filtering Feature of Canopy
Canopy porn blocker offers robust content filtering to block inappropriate websites. Parents can choose from pre-set filters like "Strict" or "Moderate" that block categories like violence, drugs, and adult content. For more customization, parents can block specific websites or create advanced filters based on keywords, phrases, and website ratings with Canopy Blocker.
Time Limits Feature of Canopy
With Canopy, parents can set daily time limits for device usage and internet access. Limits can be set for specific time periods, such as after-school hours or bedtime. Canopy will lock the device once the time limit has been reached to avoid overuse. Time limits encourage children to spend time off screens engaging in physical activity or social interaction.
Monitor Usage Feature of Canopy
The Canopy app provides parents with reports on their child's device and internet usage. Parents can view details such as which websites and apps were accessed, search terms used, messages sent, and time spent on the device. Monitoring usage in this way allows parents to ensure their rules are being followed.
Remote Management Feature of Canopy
Canopy offers parents the ability to lock or unlock their child's device remotely. If a device is lost or stolen, parents can lock it to prevent access. The remote lock feature also allows parents to temporarily lock a device if rules have been broken as an alternative to permanently confiscating it.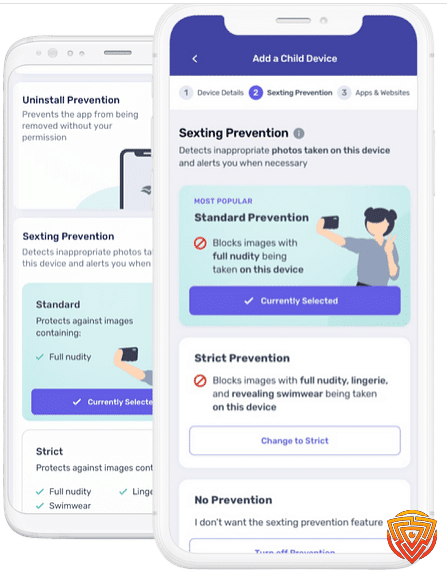 ---
Ease of Use
Next in my Canopy Review i will discuss its ease of use. Canopy provides clear instructions to walk you through the installation steps. The interface is intuitive, with options easily accessible for those with less technological knowledge. You will be prompted to enter your login details, then select which devices and profiles you want to enable monitoring and controls.
After installing the software, setting up profiles for your children and configuring the controls is effortless. Canopy recommends age-appropriate settings based on the details you provide for each child. You can then easily customize which apps, websites, and search terms you wish to block or monitor.
Scheduling options allow you to set defined time periods for device usage, such as after-school hours or bedtimes. You can also enable location-based controls using your children's mobile devices to restrict usage at schools, libraries, or other locations as needed.
Canopy aims to balance protecting children online and respecting their privacy. With an easy-to-use interface and simple installation, Canopy makes it convenient for any parent to get started right away.
---
Setup Process
Next in my Canopy Review i will discuss how to setup the software.
To set up Canopy parental control software, follow these steps:
Download the Canopy app, create an account, provide an email address and password, and follow the on-screen instructions.

Add profiles for children by entering their names, ages, and the devices they use. Choose the level of supervision based on age and responsibility. Restrictive settings are suitable for younger children, while looser controls may suit responsible teens.

You can customize web content filters, set time schedules and limits for device usage, view reports on your kids' online activity and location, and more. Enable or disable each setting based on your family's needs. For example, you may want to block inappropriate content and limit social media access for your child, but give a responsible teen more freedom with looser time restrictions.

Download the necessary software for your kids' devices. Canopy uses a combination of app-based and router-level controls for comprehensive supervision across all connected devices. Follow the prompts to install the software and ensure each child's profile is linked to their devices.

To get the most out of Canopy, stay actively involved in monitoring your kids' online activity and usage. Review reports and adjust controls regularly based on their age, responsibility, and any concerns you may have.
---
Canopy Software Performance
Next in my Canopy Review i will discuss the software performance;
Canopy succeeds as a useful and efficient parental monitoring solution. By operating discreetly in the background, providing customizable alerts, and delivering comprehensive reporting, the software gives parents the information and control they need to confidently manage their child's device usage and ensure online safety.
Efficient Monitoring: Canopy's software is designed to run efficiently in the background of devices without significantly impacting performance or battery life. The app monitors internet usage and GPS location in real-time using minimal system resources. Parents will appreciate how the software operates unobtrusively while still providing detailed reports on their child's online and physical activities.
Customized Alerts: Parents can customize the kinds of alerts and notifications they receive from Canopy. The software allows parents to select which types of websites, apps, and search terms they want to be notified about immediately if accessed by their child. They can also choose to receive alerts for when a child arrives at or leaves a specific location.
Comprehensive Reporting: In addition to real-time alerts, Canopy provides parents with detailed reports and timelines of their child's device usage, internet browsing, app activity, and location history. The reports are visualized in an easy-to-understand format, allowing parents to quickly review a child's digital footprint and make sure their technology privileges are being used responsibly.
---
Canopy App Compatibility
Next in my Canopy Review i will discuss the compatibility with hardware;
Canopy software is compatible with most mobile devices and computers that families currently own. The parental monitoring and content filtering features work on:
iOS (iPhone, iPad): iOS 9.0 or later
Android (phones and tablets): Android 4.4 (KitKat) or later
Windows (7, 8, 10)/Mac OS X: Intel Pentium 4, 2 GHz CPU, 2 GB RAM, 20 MB free disk space.
Chrome OS: Chrome OS 53 or later
On iOS and Android mobile devices, Canopy operates via an app that parents install on their children's devices. For computers, Canopy runs as an extension on major browsers like Chrome, Firefox, and Safari.
Canopy keeps its software and filters up-to-date to stay compatible with new operating system updates, ensuring that the latest mobile and computer devices will continue to work with Canopy's services for comprehensive online supervision and content moderation for children and teens.
---
Canopy Pricing
Pricing is surely an important section to this Canopy Review, lets discuss;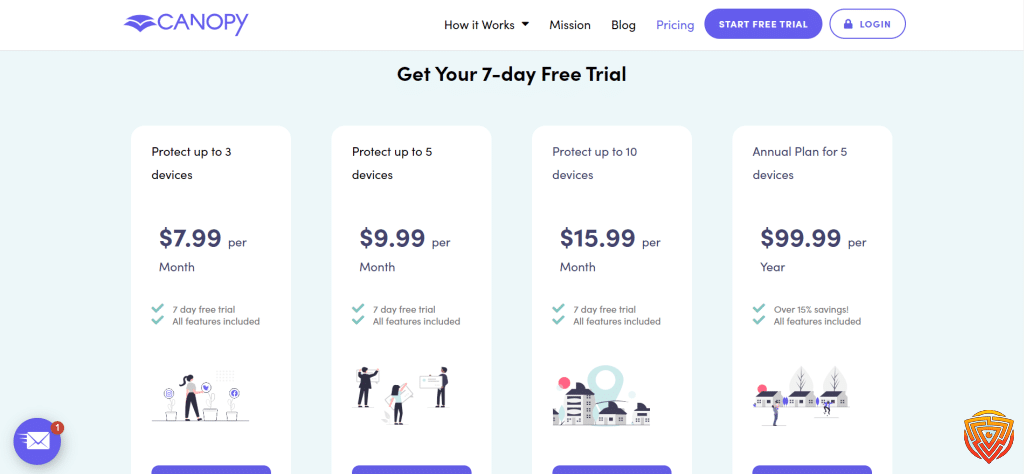 Plans Overview:
Some parents may be concerned about how much does canopy costs, so here is the detailed pricing. Canopy offers three main subscription plans for families: Basic, Premium, and Ultimate.
Basic Plan: Basic plan starts at $4.99/month, covering up to 5 devices for small families.
Premium Plan: The premium plan costs $9.99/month and offers 10+ devices, content filters, and 24/7 customer support.
Ultimate Plan: Ultimate plan provides $14.99/month unlimited device coverage, real-time alerts, and additional safety features for large families.
Initial Vs. Renewal Rates:
The initial price and renewal rates are the same as for now, if in the future the rates increase then you may have to pay a bit more in terms of price.
Comparison to Industry Standard:
When I compare Canopy rates with other competing products, it's surely a very reasonable deal, they are offering a lot of features at a very reasonable price so that everyone can monitor their child's activity without breaking the bank.
Additional Costs:
There are no additional costs attached to Canopy, they do not have any add-on products, the only thing that can add up in your cost is a VPN, if you are looking to get a next-step security you can get a VPN, however, that would cost you 30% more.
Payment Options:
You can use almost all major Debit/Credit cards to pay for it, also if you are willing to pay with your PayPal account, they do accept PayPal checkouts.
Contract Terms:
There are monthly and yearly contracts, you can choose between them and find the right one for you if you are opting for a yearly contract, you will be getting up to 15% discounted rates and you have to renew the service after 1 whole year.
Free Trial:
Yes! Canopy offers a free trial of 7 days, in which you can go through the app, check its features, and be sure if that's the right fit for you, they will charge you only after 7 days of trial if you decide to cancel the subscription you can do that before day 7.
Refund Policy and Money-Back Guarantee:
Canopy offers a very generous 30-day money-back guarantee, allowing you to get yourself enough time to go through each bit of the app and decide how you are going to use it, even after using 1 month, if you are still not satisfied, you can simply take your money back.
Promotional Deals or Discounts:
Canopy frequently runs promotions offering free the first month of service for new subscribers to try the software before committing to a paid subscription. Annual subscriptions are also available at a discount, running from $29.99 for the Basic plan up to $89.99 for the Ultimate plan.
---
Customer Support & Resources
How Responsive and Helpful Are They?
Canopy support is very responsive and helpful, I have tried multiple times during this Canopy review to make sure each time the response time was good and they were ready to help. I asked multiple questions to ensure they can answer small questions, to my surprise they were very helpful and gave me very detailed answers.
What Resources Are Available?
Canopy provides customer support via phone, email, and live chat during business hours, with knowledgeable, friendly staff responding within 30 minutes. They provide helpful resources and documentation to get started, address any issues, and maximize the use of their software.
Educational Resources: Canopy provides many useful resources for parents on their website to help keep children safe online and monitor their internet usage. They offer webinars, blog posts, and guides on topics such as
Setting up profiles for different family members based on their ages and needs.
Customizing internet filters to block inappropriate content and allow educational websites.
Monitoring internet usage reports to identify potential issues and set limits.
Tips for having open conversations with kids about responsible technology use.
With helpful customer service, educational resources, and transparent pricing, Canopy seems focused on building trust and easing the challenges of parenting in the digital age.
---
Privacy and Security
To determine is canopy app safe or not let's dive into its privacy policy for this next seciton of the Canopy Review. Canopy uses industry-standard AES 256-bit encryption to safeguard account information and settings, including usernames, passwords, payment details, and custom filters. Data is encrypted both at rest and in transit during logins and changes.
Canopy also regularly audits its security protocols and systems to check for any vulnerabilities. Independent cybersecurity firms also conduct audits of Canopy's security yearly. These audits analyze everything from Canopy's data storage methods to their employee access controls to look for any weaknesses that could be exploited. Canopy then uses these audit reports to continue strengthening its security.
Only a small number of Canopy employees can access user accounts and personal information. Access is only granted to employees who need it to perform their job functions, such as customer support reps. All employees with account access go through background checks and privacy training and sign strict confidentiality agreements.
Additionally, Canopy gives you high control over your account settings and personal information. You can update your password, enable two-factor authentication, and view and delete your browsing history and other account activity. You can also delete your Canopy account and all associated data whenever you like. Canopy will comply with your account deletion request within 30 days.
---
Limitations and Drawbacks
Limited Device Compatibility: Canopy parental control software currently only offers apps for Android and iOS mobile devices and Windows and Mac desktop computers. It does not provide apps for other platforms like Chrome OS, Linux, Fire tablets, or Kindle e-readers. If you have a household with multiple devices running different operating systems, Canopy may only work for some of them.
Requires Consistent Management: To get the full benefits of Canopy, parents will need to actively manage the software regularly. Canopy does not automatically block all inappropriate content or restrict device usage on its own. It requires parents to customize the settings and consistently monitor their kids' internet and technology use.
Bypass Methods May Develop: No parental control software is 100% foolproof. Tech-savvy kids may eventually find ways to bypass some of the restrictions and filters put in place by Canopy. They could use proxy servers to get around content blocks, wipe their browsing history to hide activity, disable the Canopy app, or use devices that don't have it installed.
While Canopy can be useful for managing technology and promoting responsible device usage in the home, parents should understand it has certain limitations. With regular oversight and reinforcement of household rules, however, Canopy parental control software can still effectively help parents monitor their kids' internet activity.
---
User Canopy Reviews and Testimonials
Next in this Canopy Review we will investigate customer feedback across various platforms;
Trustpilot Reviews for Canopy
Sarah, a Trustpilot user, found the Canopy Parental App helpful in setting healthy boundaries for her children's screen time and internet usage, thanks to its ease of use and comprehensive features.
Another Trustpilot user, JohnDoe123, found the Canopy Parental App to be a helpful tool for monitoring his teenage daughter's online activities without compromising her privacy. The app tracks her location and geofencing boundaries, ensuring her safety and promoting open communication about responsible internet usage.
Reddit Canopy Reviews
Canopy parental control app reviews on Reddit will give you verdicts pros cons most popular features of the app. It also provides a balanced perspective on Canopy's pros and cons as parental control software. According to Canopy internet filter reviews on Reddit, parents praise Canopy for its ability to block inappropriate content and review reports on their children's online activities. However, some criticisms of the software include occasional glitches, a lack of more advanced features, and the inability to monitor certain devices.
Many parents highlight Canopy's screen time management features. While a few canopy reviewers did note experiencing technical issues with the time management features, customer support was reportedly helpful in resolving these problems.
Moreover, the content filtering features receive positive feedback for providing "peace of mind" that children will not encounter offensive content. However, some parents caution that no filter is 100% foolproof, so monitoring device usage and open communication is still important.
---
Conclusion and Personal Recommendation to my Canopy Reviews
Canopy offers an array of useful features for monitoring device usage and content access at an affordable price. The web-based dashboard provides a simple yet comprehensive overview of your kids' internet activities across all connected devices.
In conclusion, I recommend the Canopy parental control software for most families with kids. As with Canopy, parents can set daily time limits for devices, view detailed reports on website and app usage, and get real-time notifications about online behavior.
Personal Experience
As a parent of two, I was always concerned about the online whereabouts of my kids but with the Canopy parental app, I finally found peace of mind. I love how the app interface works and I can always choose the settings I want without going through complex steps.
Once my daughter lost her phone and Canopy helped me lock it remotely through the parental control dashboard. I was also relieved by the balanced web filtering activity that allows me to be strict while blocking websites and also sometimes moderate when I do not want to overpower my kid's online activities.
Apart from its excellent features, the Canopy parental is also effective while toggling through the dashboard. I can block the internet access of my kids whenever I want. This allows me to ensure they are not using the phone during the night or school time. This app is safe and efficient for every parent out there.
Whom is this best for?
Canopy is best for concerned parents looking to gain more insight into their children's technology use and set healthy limits. While no software is perfect, Canopy aims to give parents more peace of mind and help foster a balance of online and offline activities for kids.
Whom is this not best for?
The Canopy Parental App may not be suitable for families with older children seeking independence or those already discussing online safety. It's essential to assess individual dynamics and needs before deciding if it aligns with your parenting approach.
Canopy Alternatives
Parents may consider general parental monitoring apps as an alternative to Canopy. These provide similar features like activity reports, screen time management, and content filtering but typically offer more flexibility and control.
Some popular options are:
Rank
Software
Key Features
Pricing
My View
1.🥇
Qustodio
Time scheduling, Content filtering, Social monitoring
$49.46/year for 5 devices
Check Pricing
Best for Comprehensive Monitoring
Try For Free
Full Qustodio Review
2.🥈
Kaspersky Safe Kids
App management, Real-time alerts, GPS tracking
$14.99/year for 500 devices
Check Pricing
Best for Budget-Friendly Option
Try For Free
Full Kaspersky Safe Kids Review
3.🥉
Norton Family
Web monitoring, Time limits, Location tracking
$49.99/year for unlimited devices
Check Pricing
Best for Multi-Device Families
Try For Free
Full Norton Family Review Review
4
Net Nanny
Real-time alerts, Profanity masking, Screen time management
$39.99/year for 1 device
Check Pricing
Best for Profanity Monitoring
Try For Free
Full NetNanny Review Review
5
Bark
Text monitoring, Email monitoring, Social media monitoring
$9/month or $99/year for unlimited devices
Check Pricing
Best for Social Media & Email Monitoring
Try For Free
6
Mobicip
Internet filter, App blocker, Screen time limit
$49.99/year for 5 devices
Check Pricing
Best for Content Filtering
Try For Free
Full Mobicip Review Review
7
OurPact
Screen time management, App blocking, Family locator
Free to $6.99/month for 20 devices
Check Pricing
Best for Screen Time Management
Try For Free
Full OurPact Review
8
FamilyTime
Location tracking, Geofencing, Time limits
$27/year for 1 device
Check Pricing
Best for Location Tracking
Try For Free
Full Family Time App Review
9
MMGuardian
Call & SMS monitoring, Screen time management, App control
$3.99/month or $34.99/year for 1 device
Check Pricing
Best for Call & Text Monitoring
Try For Free
10
Screen Time
Time control, App control, Reward system
$6.99/month for 5 devices
Check Pricing
Best for Time Management
Try For Free
Canopy App Review Final Words
As a parent, your role is to guide and protect your children as they navigate an increasingly digital world. Canopy offers an easy yet robust solution to help you fulfill this responsibility and maintain open communication with your kids about responsible technology use. With Canopy, you have the tools to set appropriate limits, monitor activity, and gain insights to have meaningful conversations.
While no software can replace involved parenting, Canopy provides an effective way for you to stay up to speed with your child's online life and set them up for success with technology – and without breaking the bank. For any parent concerned about their child's device usage and online safety, Canopy is worth considering.
---
FAQs
Is Canopy Parental App compatible with both iOS and Android devices?
Canopy Parental App is compatible with iOS and Android devices, ensuring safety and well-being for children using iPhone, iPad, or Android smartphones or tablets.
Does Canopy Parental App track my child's location in real-time?
Canopy Parental App enables real-time tracking of your child's location, providing added security. It allows setting geofencing boundaries and receiving notifications when your child enters or leaves a designated area.
Is my child's privacy protected when using Canopy Parental App?
Canopy Parental App safeguards your child's privacy without collecting personal information. It ensures private online interactions without collecting personal information· 
Is Canopy easy to set up and use?
Canopy aims to provide simple yet robust parental controls. The software is designed to be easy to download, install, and configure with an intuitive web-based dashboard. Step-by-step setup wizards guide you through the initial configuration. If you do have questions, Canopy offers 24/7 customer support to help you get started.
That's All For Now;
We appreciate you reading our comprehensive Canopy Review. We are grateful for your interest in keeping your digital life secure and we hope this information has been useful. We welcome you to come back for more cybersecurity software news and reviews to keep on top of the digital curve. To learn more and gain perspective, feel free to read the articles linked below. Be mindful of online safety!