⏳ Are you in a hurry? Then here's your short Family Time App Reviews snapshot
Name: FamilyTime
Description: Family Time App empowers parents with robust tools. Screen time control, app blocking, location tracking, geo-fencing, SOS alerts, and driving safety is possible. Ensure digital wellness, supervise online activities, and keep loved ones safe.
Offer price: 2.25
Currency: $
Personal Summary Conclusion
I have been testing Family Time App Parental Control for more than 22 days, I can assure you this app is highly effective in monitoring and managing screen time for kids. With its comprehensive features like app blocking, web filtering, and location tracking, parents have full control over their children's device usage. The user-friendly interface and easy-to-set restrictions make it convenient for parents to maintain a healthy digital balance for their kids. Overall, I highly recommend Family Time App Parental Control for any parent concerned about their children's online activities.
🎛️ Complete control: Manage every device in your home from one app.
📱 Wide Compatibility: Works with iOS, Android, Windows, and Mac.
⏰ Time Management: Set daily time limits for apps and websites.
🚫 Content Filtering: Block inappropriate content with filters.
🕵️ Usage Tracking: Keep track of time spent on different apps and sites.
🌙 Bedtime: Schedule restriction to devices at bedtime.
💼 Safe Search: Every search is filtered and checked.
🔐 Privacy Focused: Committed to protecting your family's privacy.
👥 Profile Customization: Set custom filters for each family member.
📞 Customer Support: A dedicated support team is available.
💵 Flexible Pricing: Offers monthly and yearly subscription options.
🆓 Free Trial: Click here for a free trial
🎉 Promotional Deals: Click here for promotional deals.
Features & Functionality

Ease of Use

Performance & Reliability

Compatibility

Privacy & Security

Customization Options

Customer Support

Value for Money
Pros
 Facilitates better family communication and coordination.
 Allows parents to track kids' online and device activities for safety.
 Enables setting limits on screen time to promote healthy device usage.
 Offers real-time location tracking for parental peace of mind.
Cons
 Potential privacy issues due to constant monitoring of family members.
Introduction to my Family Time App Review
Family Time is the perfect parental control app that helps in assisting parents keep an eye on their children in today's world where they are exposed to all sorts of content online. Family Time gives parents the aid to control their children's device usage and to help filter out any sort of inappropriate content.
In addition to that it also includes such features that help in tracking the whereabouts of their child, and in keeping an eye on all the apps that are being used by their younger ones. These functions can aid parents in setting up proper boundaries and safeguarding their kids from any given harmful web content. Family Time also provides a user-friendly interface which makes it convenient to use.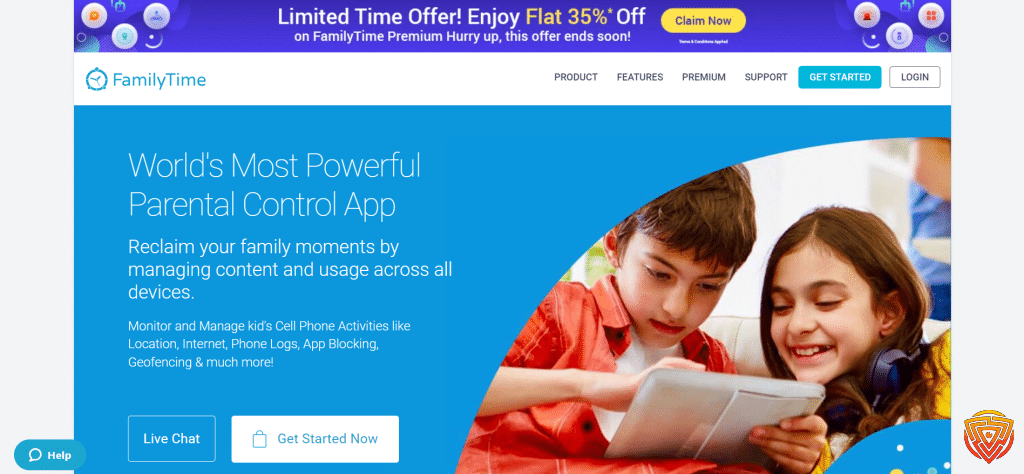 ---
Overview of FamilyTime Parental Control App
With the increase in technology and the usage of online activities by children in recent times, parental control software has become essential for parents in order to monitor their children. This app was initially founded on the 15th of December 2014, with its headquarters being located in Tokyo, Japan. The app is funded by YummyApps.
The developers emphasized the need for constant security of the children and their online presence and internet usage and allowed parents access to such comprehensive tools so that the children are under supervision and healthy routines of internet usage are enabled.
---
Features and Functionality
Family Time app offers and provides a number of useful features that can help parents monitor what their children are doing on their devices.
Screen Time Schedules
In my Family Time App review, I found that one of the most significant features is the authority to control the screen time which is allowed to children. They can then easily balance between online and offline time if the parents are accordingly managing the daily or weekly screen time. They can set limitations on their children's devices as they see fit to do so.
Parents can create a focused and safe online environment for their children by blocking some apps or websites that they think their children should not be using.
Places (GeoFence)
For parents, the safety of their children is the number one concern. The app also allows the parents to draw virtual boundaries on the given map in the app. This helps them to track and alert them if their child has either left their boundaries or is within them.
Location Tracking GeoFencing
In my Family Time App review, I found Younger children have the potential to wander off and get lost or separated from their parents, which is why to ensure the safety of your child, Family Time allows parents to track the location of their children at all times. This makes tracking the whereabouts of children super easy, and they can ensure the safety of their child from a remote area or from a distance.
Track Text Messages
To make sure that their children are not interacting with strangers or being in contact with people who they shouldn't be in contact with, this app provides text tracking features that will allow the parents to track the messages of their younger ones.
App Blocker (games and apps)
In my Family Time App review, I found one of the key features of this app is that it blocks inappropriate content from children. Family Time uses web filtering technology. It allows blocking access to any sort of inappropriate or harmful content which ensures the protection of kids. Family Time also aids in the provision of in-depth evaluations of the apps and games that are being played by the kids.
Screen Time Control
Parents also have the ability to establish limits for device usage, which can be helpful at times such as during homework or during bedtime. This can help their children go towards better and healthier habits and cut down on increased screen time.
Tracks Call Feature
The Family Time app also has call-tracking features, so the primary focus is on managing as well as monitoring their calling activities. This helps the parents to stay updated about who their children are calling or what numbers their child is dialing or receiving or missing calls from.
Multi-Device Support Feature
The app is compatible with a number of platforms which include PCs, tablets, and mobile phones, and allows parents to manage and monitor their children's devices from one single dashboard.
---
Ease of Use
In my Family Time App review, I found that its brilliance lies in the fact that its software is very simple and easy to use. Once you have downloaded the app you will come to see that Family Time is an app that is easy to understand and to use. All the features in this app are well organized with bright and minimal visuals. The setting up process is hassle-free and easy.
However, it is to be kept in mind that it is a full parental control tool that includes a variety of features and options to aid you. The app can be used to its maximum benefit by the app's functionality and can also be adapted according to the needs of your family.
This can be done by making yourself become familiar with the features that have been provided by the app and by taking some time to explore them. There is a guide for first-time users too and customer support is also available if the users are to face any sort of difficulties while processing the app.
---
Setup Process
During my Family Time App review, I found that Family Time aims to give its users a very convenient experience in terms of usage, so you don't have to break a sweat over learning how to use the Family Time app. However, it also majorly depends on the platform that is being used (Android, iOS) and app version, which may cause the specific interface and user experience to be different for everyone. For further directions, help, and support, the app's official website has documentation along with user guides to help the user.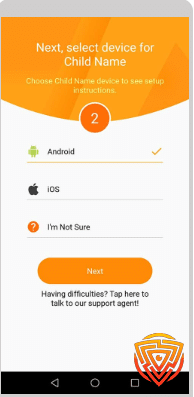 Here is the Step-by-step process to install the Family Time App
Navigate to Google Play and enter "FamilyTime" in the search bar. Locate "FamilyTime Parental Control" and proceed to tap on the "INSTALL" option.

Once the app is installed, open it. You have the option to sign up for FamilyTime using either your Facebook, Google account, or email. Select your preferred method and continue.

In case you are signing up through email, you will get a verification email on your registered email. Verify your email to proceed further.

Select "ADD DEVICE" to include your child's device.

The process of adding a device is straightforward. Simply input your child's name and choose their gender.

Choose the type of your child's device here and then click on "Next."

Now Go to your Child's phone, open Google Play, and search FamilyTime Jr.

Opt for FamilyTime Jr. (the one with the orange icon) and proceed by tapping "INSTALL."

Click "Open" once the installation is complete.

Agree to the Terms of Service and move to the next screen.

The app tour will begin. You will be prompted to grant access to specific data; tap "Next" and continue.

Allow permission to access phone location, call logs, contacts and text messages. Tap "Next".

Allow permission to access device usage stats, device information and app overlays. Tap "Next".

You will now receive requests to allow the app to start at boot, run in the background, and access USB storage. Select "I Agree" and move forward.

Continue tapping on "Allow" to grant permission for the app to access and view your child's SMS, phone calls, contacts, and location.

Type the Child's name, gender, and age and continue.

Establish a "PassCode" for your child's device to prevent them from uninstalling the app.

Install the profile on your Child's phone are you are good to go.
How to Use Family Time App?
Starting with FamilyTime is as easy as pie. First things first, you'll need to download the app from either the Google Play Store or Apple App Store, depending on your device. Once that's out of the way, here's the rundown:
Install and Open: After downloading, open the app and sign up. You'll have to provide some basic info. 📝
Set Up Devices: You'll get a prompt to set up devices for parental monitoring. Select 'Child' for the device you want to monitor and 'Parent' for your own. 👨‍👩‍👧‍👦
Configure Settings: Dive into the settings. Here, you can set daily app limits, bedtime schedules, and even geo-fencing alerts. 🎛️
Monitor: Once everything is up and running, you can start monitoring text messages, calls, and app usage right from the dashboard. 🕵️
Take Action: You can remotely lock your child's phone, pause the internet, or block apps with just a tap. 🚫🌐
Check Reports: Detailed activity reports are available for you to check how your child interacts with their digital world. 📊
That's it! You're now a FamilyTime pro. Anytime you want to change settings, just go back to the dashboard. Easy peasy! 🌟
---
Software Performance
In this part of the Family Time app review of Family Time, the software performance will be evaluated. It is able to work with a number of gadgets which include PCs, tablets, and smartphones. It is compatible with both iOS and Android. This makes it easy for parents to conveniently keep an eye on the activities of their youngsters regardless of the tools they decide to choose.
The ease of the blocking and monitoring features is a further consideration that is crucial. The app can carefully track and report on a child's online behavior, including app usage, web browser history, and location-tracking geofencing. Access to problematic websites and content is luckily restricted thanks to their highly praised and noticeable features like content filtering and blocking tools.
The app also has alerts that are necessary for the full parental control user experience.
Content Filtering
In my Family Time App review, I found, it has content filtering features which include time limits, app blocking, and other monitoring features. This feature is remarkable when it comes to blocking inappropriate content. It filters out any sort of content that can fall under explicit or adult content.
App Monitoring and Management
This gives the provision of detailed reports of usage of each app that is being used by the child on the respective devices. This is accurate and has real-time updates which helps parents in setting time limits or blockage towards specific apps.
Monitoring Capabilities
Noticing how much time is being spent on each app and how frequently they are being used can be easily noticed through the Family Time app. It has screen time monitoring which provides a detailed report with statistics so that it is easier for parents to identify how much time is being spent on each app.
---
Compatibility
The Family Time app is successfully compatible with various devices as well as operating systems. Take a brief look at the devices on which the Family Time App is compatible:
Android
For the Android user parents, Family Time works on Android devices running Android 4.4 and above and runs smoothly without any glitches.
iOS
You can get FamilyTime iOS installed easily on iPhones, iPads, and iPod Touch devices that are running iOS version 9.0 and above.
Windows
The app also runs conveniently on Windows computers, laptops, or desktops in case your child uses one of these.
macOS
Family Time is verily compatible with most Apple devices which also includes Mac computers.
---
Family Time App Pricing
Plans Overview:
In terms of pricing, Family Time makes it clear and easy for parents to select a plan that can cater to their needs when it comes to family time app costs. There are different options of plans from which parents can choose the best which caters to their needs.
1. MyFamily: This plan provides premium features which include screen time limitation, monitoring of app usage, web history, along location tracking. It is available for just $2.25 per month and can be used on 1 child device. $27 will be charged annually.
2. MyFamily3: This also has all the premium features and can be used on 3 child devices, starting at $3.75 per month. After the trial, $45 is the charge per year.
3. MyFamily5: It can be used on 5 child devices, has all the premium features, and costs $5.75/month, and, after a trial, just $69 per year.
Initial Vs. Renewal Rates:
In my Family Time App review, I found, that there is no difference in the initial vs. renewal price of the Family Time App. You can renew your subscription at the same price as of the original purchase price.
Comparison to Industry Standard:
Compared to the industry standard, this price is very reasonable and justified according to the features it has to offer.
Additional Costs:
There are almost no additional costs attached to this subscription, however, if you want to add a VPN for additional security you can purchase it separately from any well-known provider.
Payment Options:
In my Family Time App review, I found, that they accept almost all payment providers like ApplePay, GPay, Visa, Master, and Amex.
Contract Terms:
There are no rigid contract requirements; you simply have to abide by the clear terms of service.
Free Trial: Is Family Time App Free?
Yes, the Family Time app offers a 3-day free trial for you, you can use their service for free and get through it, and if you like the service, you can easily opt for a paid subscription.
Refund Policy and Money-Back Guarantee:
In my Family Time App review, I found there are no refunds for any unused subscription time, license or subscription costs for any part of the Service, content or data linked to your account, or for anything else. You can cancel your FamilyTime Premium account whenever you like. Your membership will remain active after you cancel your FamilyTime Premium account up to the end of the paid period. You are required to be accurate, comprehensive, and up-to-date with all information you submit in connection with any purchase, transaction, or other financial contact with the Service.
Promotional Deals or Discounts:
There is a 35% discount deal running for this app, make sure to check that out here.
---
Customer Support and Resources
How Responsive and Helpful Are They?
In my Family Time App review, I found, that Family Time has provided email support to be there and to be available for client services at all times in case of any sort of hindrance, assistance with app functionality or troubleshooting, or any other problem that may arise. Users can also get in touch with the support staff.
Regarding responsiveness, the team is readily available, response time is under 24 hours and they are well-trained to answer all of your questions.
What Resources Are Available?
The app has also featured a comprehensive knowledge base or FAQ section on the website, which thoroughly includes all the answers to the commonly asked issues, and for further convenience, they have put up tutorials on the features and settings of the app. Users can utilize these resources for self-help and troubleshooting before calling customer service.
Family Time has also provided instructions and manuals through the use of videos, blog posts, or written materials so the users can use these resources to gain more knowledge and information about the installation of the program and how to set up parental controls along with the utilization of all of its capabilities.
Privacy and Security
Family Time App takes the protection of data very seriously, and that can be reviewed in their privacy policy. The importance of Privacy and security are their utmost considerations as being a parental control app, it is crucial to ensure the privacy and ensuring privacy rights of both the parents and their child and maintain the security measures.
Family Time is also a reputable parental control app that has been trusted by a number of users as well as app stores and other known software developers. For further privacy concerns, it has regular updates for constant improvements in terms of security as well.
---
Limitations and Drawbacks with Family Time io
In my Family Time App review, I found, that being computer-generated software, it is bound to have its share of drawbacks and limitations. According to reviews, it runs differently on both Apple and Android devices. Apps features cannot be fully utilized due to the privacy restrictions on Apple.
There have also been drawbacks in the location tracker, which has been considered slow or inaccurate but it is being updated, and the various other features make up for it and allow you to track nonetheless. Constant pop-up ads can also be a drawback and can hinder the experience of the user.
---
User Family Time App Reviews and Testimonials
Testimonials on Trustpilot
The FamilyTime app reviews on Trustpilot are considerably good. A user said they had been trying to determine an efficient parental control app and Family Time had so far been the best one and has the widest range of features. The customer support service has also been praised in Family Time parental reviews.
Testimonials on Reddit
Another user stated that this app was very easy to use and that you could also pick and choose which apps are being used by your children, and their text and calls could be monitored easily, which made it a safe app.
Another user on Reddit stated that the geofence-based warnings were trustworthy and accurate which made this app stand out from the rest of the parental control apps.
---
Conclusion and Personal Recommendation to my Family Time Parental Control Reviews
By now you must have comprehended how does Family Time app works. Family Time is an app that provides robust parental control features. With so many distinct features, it leaves no room for gaps in monitoring and tracking your child to keep their safety intact. This is what makes it the best parental control app.
Having tested this app personally, it functions smoothly and has minimal and pleasing visuals. The app is safe to use in terms of privacy and concern and allows a healthy and safe relationship between parents and their children by controlling their online habits and screen time.
Personal Experience
The app is great as It comes with a dedicated 2 or 3-child devices package so I chose the 2-device plan. It is very affordable and being a nontechnical parent, I never had any problem using it. The app monitors what my kids are doing online, who is calling them, and where they are.
I have blocked many websites on the app so that my kids do not encounter any harmful content. I also set screen time so that my kids do not use devices when it's time to study. The app has every important feature such as app blocker and text message tracking so I am always able to see my kid's conversations and used apps.
Whom is the App FamilyTime best for?
Family time parental control is best for those parents who are concerned about their young kids being exposed to dangerous or harmful content on the internet and want to ensure a safe browsing experience in limited times. This is also very useful for working parents or busy parents as they can ensure all this from a remote distance from their child.
Whom is this not best for?
As a parent, if you wish to monitor their social media apps and the activity there, then this app does not track that and is unable to provide in-depth reports on app usage. There might also be arising concerns when It comes to location tracking as the app is a little slow in terms of real-time tracking.
Family Time App Alternatives
You can find a number of parental control apps on the app store, which have been briefly mentioned as follows:
Rank
Software
Key Features
Pricing
My View
1.🥇
Qustodio
Time scheduling, Content filtering, Social monitoring
$49.46/year for 5 devices
Check Pricing
Best for Comprehensive Monitoring
Try For Free
Full Qustodio Review
2.🥈
Kaspersky Safe Kids
App management, Real-time alerts, GPS tracking
$14.99/year for 500 devices
Check Pricing
Best for Budget-Friendly Option
Try For Free
Full Kaspersky Safe Kids Review
3.🥉
Norton Family
Web monitoring, Time limits, Location tracking
$49.99/year for unlimited devices
Check Pricing
Best for Multi-Device Families
Try For Free
Full Norton Family Review Review
4
Net Nanny
Real-time alerts, Profanity masking, Screen time management
$39.99/year for 1 device
Check Pricing
Best for Profanity Monitoring
Try For Free
Full NetNanny Review Review
5
Bark
Text monitoring, Email monitoring, Social media monitoring
$9/month or $99/year for unlimited devices
Check Pricing
Best for Social Media & Email Monitoring
Try For Free
6
Mobicip
Internet filter, App blocker, Screen time limit
$49.99/year for 5 devices
Check Pricing
Best for Content Filtering
Try For Free
Full Mobicip Review Review
7
OurPact
Screen time management, App blocking, Family locator
Free to $6.99/month for 20 devices
Check Pricing
Best for Screen Time Management
Try For Free
Full OurPact Review
8
FamilyTime
Location tracking, Geofencing, Time limits
$27/year for 1 device
Check Pricing
Best for Location Tracking
Try For Free
Full Family Time App Review
9
MMGuardian
Call & SMS monitoring, Screen time management, App control
$3.99/month or $34.99/year for 1 device
Check Pricing
Best for Call & Text Monitoring
Try For Free
10
Screen Time
Time control, App control, Reward system
$6.99/month for 5 devices
Check Pricing
Best for Time Management
Try For Free
FamilyTime Reviews Final Words
It is a full package of all sorts of features that are necessary for proper parenting and to manage the activities of their children online. But for your own needs, you should download the app and start the free trial to see for yourself and test all the amazing features this app has to offer. If the app doesn't meet your needs, you can take a look at their refund policy.
---
FAQs
Does Family Time run on all mobile phones?
Yes, Family Time runs smoothly on all Android smartphones and tablets, iPhones, iPads, and iPod Touch.
Will Family Time show up on my child's phone?
Family Time is not a hidden app or some spyware. Therefore, Family Time will show up on your phone and that of anyone who's been added to your Family Time Dashboard.
What does Family Time enable me to monitor?
You can keep tabs on the calls, contacts, browser history, and whereabouts of your children and loved ones. You can check all features
Do Android devices need to be rooted to use Family Time?
No, Family Time does not require Android devices to be rooted.
Using Family Time, is my data and my family's location and phone data safe and protected?
Absolutely, all your data is 100% safe and secure with us. We upload all your data on impenetrable servers. We take your privacy very seriously. For more details, have a look at our Privacy Policy.
That's All For Now;
We appreciate you reading our comprehensive Family Time App Review. We appreciate your concern about the security of your digital life, and we hope the information we've provided has been useful. We invite you to return for more cybersecurity software news and reviews to help you remain ahead of the digital curve. Please review the articles linked below for further information and opinions. Take internet security very seriously!